the
PHAST

Foundation 501(c)3
We started our journey in 2009, with a desire to combine and promote two things we loved and thought were critical to the communities in which we lived: Being Healthy And Serving Others. And we found a extremly unique and invigerating way to do it. What we do is slam healthy activites and service projects together. We tango Triathlons and Emergency Rooms together. We crash CrossFit and Food Banks together. We ram writting letters to service men and running together. You get the picture. We believe our athletes are the most capable, competative, yet caring volunteers in the WORLD.
Trained athletes can give more service, for longer hours, and reach a greater number of people in need. They literally are trained to do just that. We suck 'em in with a race, then put 'em to work. Oh, and they still compete and kick butt. We love what we do and we love when others do it with us. Our races will leave you exhuasted in more ways than one, and leave you feeling better about yourself than you thought possible.
Nobody is ever TOO busy to be Healthy or Helpful. We hope to see you out there with us one day. When we do, make sure you get you hand up, cuz you got a high PHIVE coming your way.
Below is what we love to do:
RACES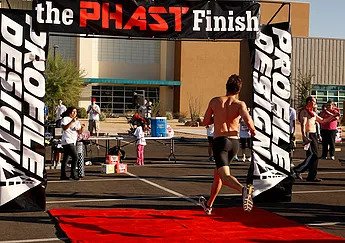 Triathlons and 5ks
Sprint PHAST – Sprint Distance Triathlon
PHAST Kids – Long and Short Distance Kids Triathlons
PHIVE K – 5 K
Duathlon
Our pilot event and largest race is our Annual Sprint PHAST and PHAST Kids Triathlons. Every year it gets bigger and better. We cant get enough of the stellar athletes that participate each and every year.
No other triathlons or 5ks are like ours, not even close. Simply put, in our race, NICE GUYS FINISH FIRST. During each transition zone in the tris, and at midpoint of the 5k's, each athlete is required complete a short but meaningful act of service. Time is added for not completing the task, but time is deducted for completing the task. Athletes are encouraged to complete more than one service project, thus resulting in a PHASTER time. Each one completed results in additional time reductions. We put your competative drive and compassion toe to toe in a once in a lifetime battle. The winners of the race are those with the PHASTEST times. Compassion and Competition have never been so skilfully juggled.
THINK PHAST SCHOLARSHIP
Presented by Debt Trader
We are passionate about the health of our communities, and that makes it easy to be passionate about those that want to pursue a higher degree or training that will offer Health and service related skills to their communities." The rules are simple Make a 3 minute video about what it means to be PHAST to you, upload it onto you tube with THINK PHAST – 2019 then you name, send us the link and a resume to thePHASTlv@gmail.com.  At the deadline, the top 10 videos, with the most views with be reviewed. So share it with as many people as possible. Our board members will pick multiple winners. Scholarships are $500 each. Application Deadline is December 31st 2019
LOCAL COMMUNITY SERVICE
We love our communities and want to use our races to benefit them. Our races are magnets to bring people that commited countless hours of training together to hammer out some serious comminty good, to use that training as an excuse to help others.
We are always brainstorming ways to marry something healthy and helpful. Aoung other things, we help EAGLE SCOUTS get thier Eagles, high school students get comminity service, and really anything we can think of. If you have an Idea, click the link above or email us at thephastlv@gmail.com
GLOBAL RELIEF EFFORTS -PHAST AID
In many case, where help is needed, it just cant get there fast enough. We recruit athletes across the world to flock to areas of need, where we hold a "SERVICE RACE". There is no time, routes are only suggestive, and the only winners are those that we help.
Who would have thought that all those hours and hours of training were actually shaping you into the most capable and effective volunteer this world has ever seen. You will run and not be weary, walk and not faint, reach more and more that desperatly need help, and do it for longer. A PHASTLETE is one who perfectly epitomizes the combination of Health and Service
PHASTLETE SCHOLARSHIPS
Raising a family gets expensive. Raising an active family can get even more expensive. Cleats, uniforms, league fees, etc. Kids playing sports gets pricey fast. Often times many family are unable to provide the financial means for their children to participate in sports and activities.
We want to help. Sports has been a part of so many of our lives. Think of all the lessons learned, the friendships made, and lasting impact sports and exercise has made on our life. We want to help provide those opportunities for kids that might not have that chance other wise.
If you know a child that would love to participate but can't and would benefit from a PHASTLETE Scholarship email us at phastlv@gmail.com
Keep Being Awesome Kids