We started our journey in 2009, with a desire to combine and promote two things we loved and thought were critical to our communities: Being Healthy And Serving Others. We found an extremely unique and invigorating way to do it. We combine healthy activities and service projects together. Some of our races have included assembling gift bags for children in the Hospital, assembling lunch sacks for people experiencing homelessness and tying quilts to donate to Hospital patients. We also have provided and awarded college scholarships, presented our message to the youth in school assemblies and participated in Eagle Scout projects.
Healthy individuals have the potential to give service for longer hours, and reach a greater number of people in need, especially when working together. We love what we do and we love when others do it with us. Our races will leave you exhausted in more ways than one, and leave you feeling better about yourself than you thought possible.
No one is ever TOO busy to be Healthy or Helpful. We hope you will join us in improving ourselves and our communities.
The Phast Foundation
RACES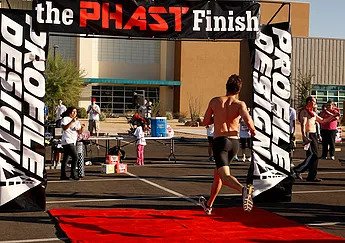 Triathlons and 5ks
Sprint PHAST – Sprint Distance Triathlon
PHAST Kids – Long and Short Distance Kids Triathlons
PHIVE K – 5 K
Duathlon
There is no other Triathlon, Marathon, or 5k like ours. Simply put, in our race, NICE GUYS FINISH FIRST. During each transition zone in the triathlon, at midpoint of the 5k's, and after each mile run in the Marathon, each athlete is invited to complete meaningful acts of service. We put your competitive drive and compassion together to benefit our communities.
THINK PHAST SCHOLARSHIP
We are passionate about the health of our communities, and that makes it easy to be passionate about those that want to pursue a higher degree or training that will offer Health and service related skills to their communities.
The rules are simple
Make a 3 minute video about what it means to be PHAST to you.
Upload your video onto youtube titled THINK PHAST SCHOLARSHIP–2020 (your name)
Send us the link and a resume to thePHASTlv@gmail.com.
After the deadline the top 10 videos with the most views with be reviewed. So share it with as many people as possible. Our board members will pick multiple winners. Scholarships are $500 each. Application Deadline is December 31st 2020
LOCAL COMMUNITY SERVICE
We are always brainstorming ways to marry something healthy and helpful. If you have any creative suggestions or ideas click the link above or email us at thephastlv@gmail.com
GLOBAL RELIEF EFFORTS -PHAST AID
Our goal is to provide the same creative activities and service to help those in communities outside of the United States, Recent efforts have included Health Clinics, School assemblies, and Clean Up Runs in Belize, Central America.
PHASTLETE SCHOLARSHIPS
Raising a family gets expensive. Raising an active family can get even more expensive. Cleats, uniforms, league fees, etc. Kids playing sports gets pricey fast.
We want to help. We want to help provide those opportunities for kids that might not have that chance otherwise.
If you know a child that would love to participate in sports and would benefit from a PHASTLETE Scholarship email us at phastlv@gmail.com
Keep Being Awesome Kids